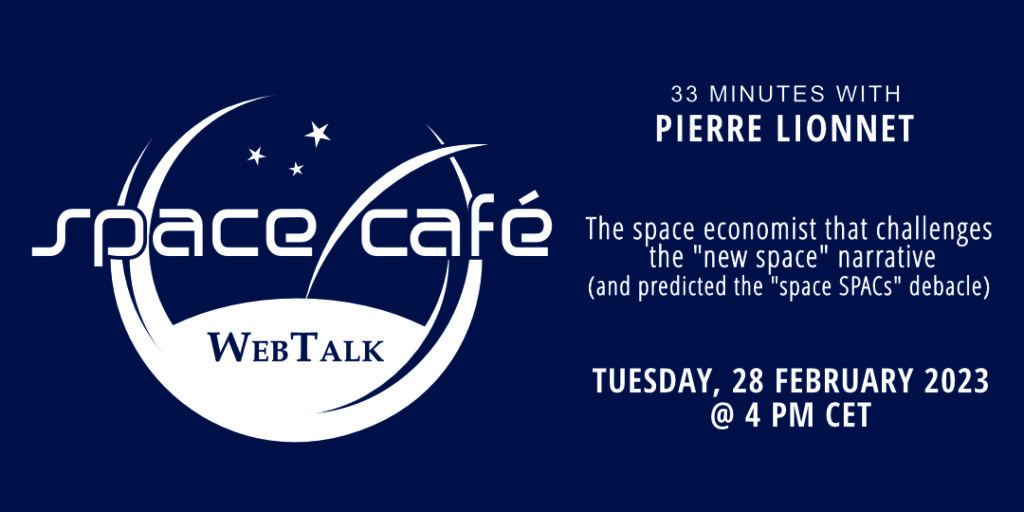 This Space Café WebTalk will feature Pierre Lionnet, Research and Managing Director at ASD-Eurospace, in conversation with Torsten Kriening, publisher of SpaceWatch.Global.
The space economist that challenges the "new space" narrative (and predicted the "space SPACs" debacle)
The talk will focus on key subjects of the space economy: is the space economy growing? and what are the metrics and indicators to assess it? Are we experiencing a transformational moment in space? Are the new (mega) constellations the cause or the consequence of the paradigm change? And is this new trend economically sustainable? Under what conditions? And how is the European industry fairing in this new space of challenges and opportunities?
Pierre is an economist with >25 years of experience in the space sector. He is a well-known expert of space markets and technology trends.
In his younger years, he had brief professional experiences in venture capital, consulting, and marketing, and worked for ESA as a research contractor before joining Eurospace in 1994 as a research and market analyst. At Eurospace, he has progressed through a variety of junior and senior positions; he is now Research and Managing Director of the association.
Pierre has worked on all space subjects, addressing the intricate mixes of technology, economics, policy and strategy. He is the Eurospace area leader for all subjects related to Space Markets and Economics, Space Technology Strategy, and Industrial Policy matters.
Pierre regularly gives lectures focusing on space economics to a variety of audiences, including aerospace industry and defense professionals, members of parliament, and students at Masters levels. He also plays an advisory role to the European Innovation Council and joined Starburst Ventures fund as a hands-on advisor in 2022.
Pierre has a Maitrise (Master 1) in Economics (with a major in banking and finance) from the University of Nancy (France) and a DESS (Master 2) in Industrial Management of Innovation from the University of Strasbourg and INSA (France). He completed the International Space University Summer Session Programme in 1993 (Huntsville Al.).
Pierre is tweeting on space economics and markets – @LionnetPierre.
Eurospace is the largest and most representative trade organization of the European space industry. Eurospace provides services to its members in the fields of market and policy watch, advocacy, sector cohesion and compliance. Read more at eurospace.org .
The audience will have an opportunity to ask questions in dialogue with Pierre Lionnet.
SpaceWatch.Global is a Europe-based digital magazine and portal for those interested in space and the far-reaching impact of the space sector.
This Space Café WebTalk will be conducted in English on the 28th February 2023 at 4 pm CET.
Reserve your place today.