by Viktoria Urban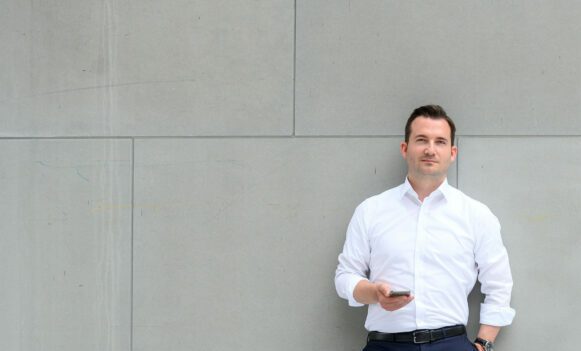 Our Space Café WebTalk "33 minutes with Matthias Wachter – Departure or standstill – Why 2023 will be decisive for European space?" took place on Tuesday, 17th January.
Matthias is Managing Director of the German NewSpace Initiative and Head of International Cooperation, Security Policy, Raw Materials and Space at the Federation of German Industries (BDI). He studied Business Administration and International Relations in Germany, France and the US. He also holds an Executive MBA from the European School of Management and Technology (ESMT). He is also a Reserve Officer in the German Armed Forces.
Matthias starts by acknowledging the success of the European Space Agency (ESA) Ministerial Council in November last year, where the agency achieved a 17% budget increase. He says however, that it is important to take inflation into account, which is around eight to 10% at the moment. So in real terms, the increase is smaller than it sounds.
"If we compare our budgets to the US or China, we have to admit that the gap between the US and China on the one side and Europe on the other side in space is widening," he said.
According to Matthias, what Europe is lacking is ambition. Despite Europe having the Astronaut Corps, the continent does not own spaceships to take European astronauts into space on European rockets. In the past decades, Europe relied heavily on its cooperation with Russia and its Soyuz rockets. As this cooperation is over now, Europe has temporarily lost its access to space. Matthias thinks that an emphasis needs to be put on access to space as it is crucial in launching and protecting it assets. He says one way forward could be allowing commercial rocket companies to compete for institutional contracts while also investing in them.
He explains that BDI is an umbrella organization representing 100,000 manufacturing companies. BDI is trying to link these with the New Space ecosystem and New Space companies as the use of space data and space-generated services could help the non-space sector to become more efficient, more sustainable, and more successful.
"I mean, space is always also about collaboration. And we as Europeans, we need to collaborate with each other. Because without collaboration, you won't be able to, let's say, achieve and realize really big and ambitious projects. And we also need to work together and collaborate with our American friends, when it comes to going forward to the moon," he continued.
Matthias says that Europe also needs to make sure that its home market is attractive, to make companies stay and invest.
He states that the German government has to update its current strategy and plans because so much has changed in the past few years within the sector. The government has already reached out to companies, has had stakeholder meetings, which means they are trying to find out what the ecosystem needs. The government also aims to write a National Security Strategy to be presented at the Munich Security Conference in February. Other strategies, such as a Raw Materials Strategy and a new Space Strategy, are also in the making.
Matthias then went on to talk about the future of BDI, which is partnering with the Munich Security Conference, where they plan to stress the strategic importance of space. He says BDI will continue to bring together New Space and non-space. Matthias claims there is huge potential for the German industry and big opportunities for working together with the space sector and utilizing space data.
To listen to the Space Café WebTalk's insights, you can watch the full program here:
Viktoria Urban, Senior Editor at SpaceWatch.Global: After graduating as a Journalist from Edinburgh Napier University, I am now doing an Astronomy and Planetary Science degree at The Open University (Scotland) which has enhanced my already existing love and enthusiasm for space. I am also a member of and a volunteer for several societies both in Hungary and in the UK and write online content on space for multiple companies as well. I hope my science communication will encourage many to find a job in the space sector, whatever their background and highlight important issues to ensure a sustainable space environment for future generations.