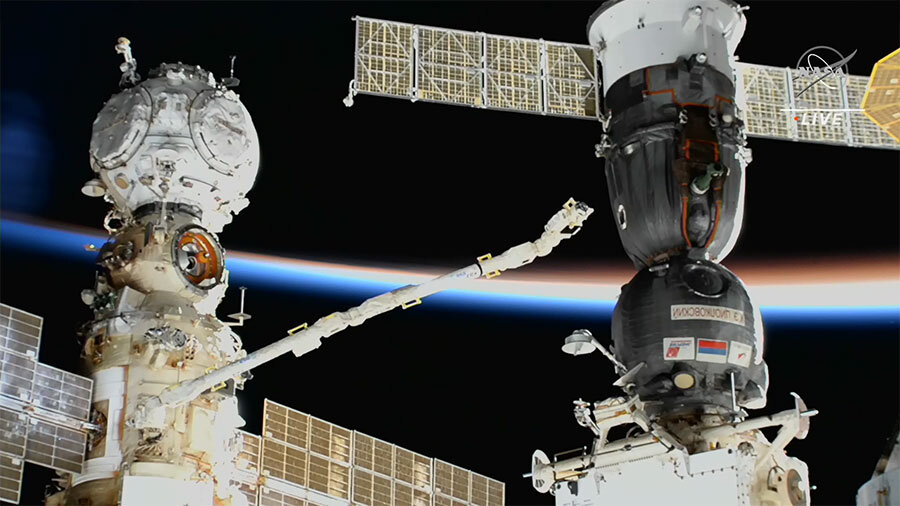 Edinburgh, 16 December 2022. – The Soyuz MS-22 spacecraft docked to the International Space Station (ISS) experienced a coolant leak because of which Roscosmos had to cancel a spacewalk, NASA said. NASA and Roscosmos are currently evaluating the impacts of the leak to the integrity of the spacecraft. The crew members aboard the ISS are safe. 
Soyuz MS-22 flew NASA astronaut Frank Rubio and Roscosmos cosmonauts Sergey Prokopyev and Dmitri Petelin to the ISS in September. The external leak was detected this Wednesday. Teams suspect that the source of the leak is the external radiator cooling loop.
Roscosmos is monitoring the temperature of the Soyuz spacecraft to determine whether it is suitable for bringing the 3 astronauts back to Earth. NASA and Roscosmos is also planning to inspect the Soyuz exterior with the help of the Canadarm2 robotic arm.
The crew remains safe with all planned Roscosmos spacewalks postponed indefinitely. Normal operations continue aboard the space station, including science investigations and research, as well as configuring tools ahead of a US spacewalk scheduled for Monday.