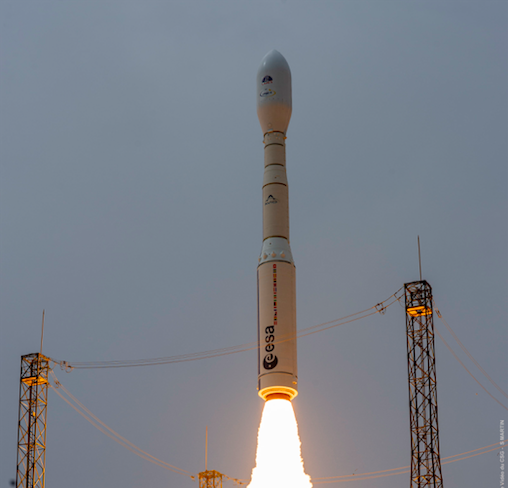 Edinburgh, 21 December 2022.– Approximately 2 minutes and 27 seconds after liftoff an anomaly occurred on the rocket's Zefiro 40 second stage, thus ending Arianespace's Vega C mission, the company said. Data analyses are currently in progress to determine the reasons of the launch failure.
The final two of Airbus's four-satellite, €600-million commercial Pléiades Neo Earth observation fleet were lost due to the anomaly. The optical imaging spacecraft crashed into the Atlantic Ocean along with parts of European Vega C rocket.
The second stage Zefiro 40 motor ran into trouble just after firing up. Arianespace said they "have observed a deviation of the trajectory and a very strong anomaly." According to rocket telemetry, the vehicle started losing velocity when the motor should have been propelling the launch vehicle to go faster. Zefiro 40 is produced by the rocket's prime contractor, Avio. 
The launch was the first commercial flight of the upgraded Vega C rocket, following a successful inaugural test flight in July. Vega C is designed to  replace the old Vega rocket's solid-fueled first and second stages. Meanwhile, the wider Zefiro 40 second stage replaces the Zefiro 23 motor adding 50% more propellant.