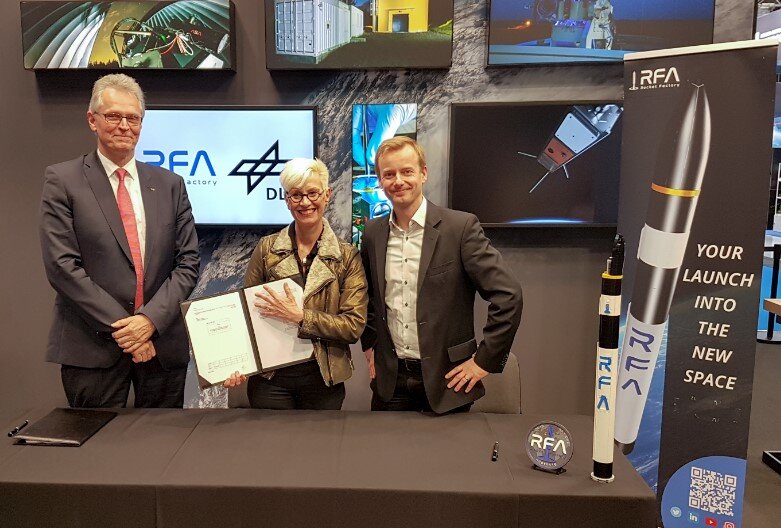 Ibadan, 17 November 2022. – Rocket Factory Augsburg (RFA) and the German Aerospace Center (DLR) announced at Space Tech Expo Europe in Bremen that RFA will build and operate its own test stand at the DLR site in Lampoldshausen, Germany. There, RFA will test its Helix engine starting in mid-2023 to bring the European Union's first staged-combustion engine to serial production maturity.
According to this agreement, RFA will lease and use the P2.4 test site while DLR provides the basic infrastructure. Furthermore, the test operation will take place within the framework of the site regulation, and RFA will bring its own test stand and supporting infrastructure.
This will give RFA the opportunity to test and operate its Helix engine in Germany for the first time. Until now, only DLR, the European Space Agency (ESA), and ArianeGroup used the test stands in Lampoldshausen. RFA is thus one of the first NewSpace companies to receive this opportunity. So far, RFA has only tested its Helix engine in Esrange, Sweden, at the Swedish Space Cooperation (SSC). Nevertheless, operations at this site will continue.
According to Jörn Spurmann, Chief Commercial Officer at RFA, "The setup created with DLR is commercially very competitive on a worldwide scale and the right way to ensure the competitiveness of the German space industry in Europe and the world. We are very proud to be able to test our Helix staged combustion engine – the first in the European Union – at DLR in Lampoldshausen and are honored by the trust placed in us as a New Space company."
"Start-ups are becoming increasingly important players in space as well. That's why we are glad about the trust that Rocket Factory Augsburg has placed in us as a New Space company," said Anke Kaysser-Pyzalla, Chair of the DLR Executive Board, at the signing of the contract. She added: "By validating promising advanced engine concepts, we are jointly laying the foundations of Europe's commercial and cost-effective access to space.