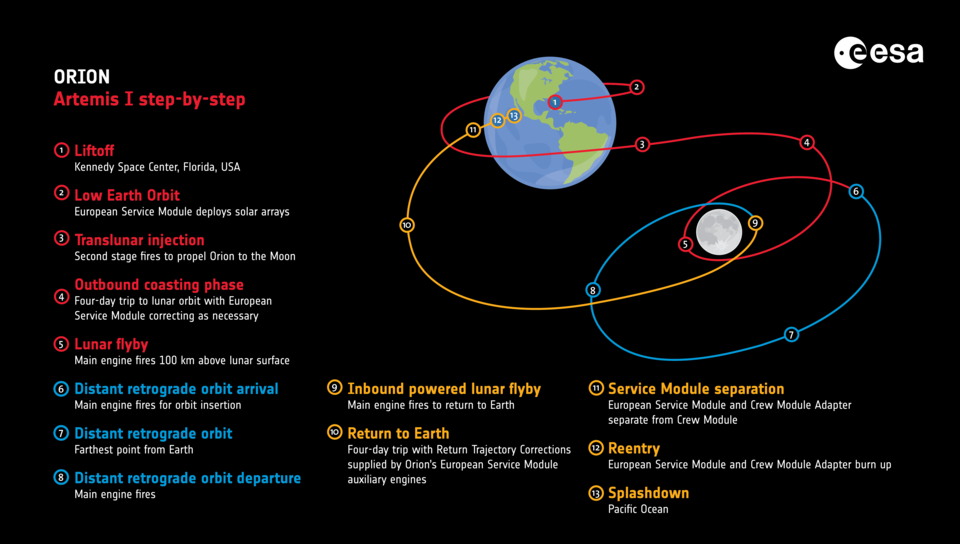 Edinburgh, 16 November 2022. – NASA successfully launched Artemis I, comprising its Space Launch System (SLS), the most powerful rocket in the world, with the uncrewed Orion spacecraft aboard, which is on its way to cislunar orbit as part of the Artemis program, NASA said.
During its 25.5-day space trip, Orion will travel approximately 64,000 km beyond the Moon before returning to Earth. Artemis I serves as a test mission prior to flying astronauts to the Moon with the Artemis II mission. Orion is powered by the European Space Agency's (ESA) propulsive powerhouse service module. 
Several science investigations and technology demonstrations are planned to deploy from the spacecraft in the form of CubeSats. Orion is expected to perform a close Moon fly by on 21st November before entering a distant retrograde orbit beyond Earth's natural satellite.
This was the third scheduled launch attempt for the Artemis I mission, with the first cancelled in August due to a faulty temperature sensor. The second attempt was scrubbed in September because of a liquid hydrogen leak. After NASA teams performing the necessary maintenance and repairs, the agency had to wait for Hurricane Nicole to pass the launch area. Following the storm, NASA conducted thorough assessments of the space vehicles and associated ground systems prior to launch.
The Artemis program is a joint mission with ESA, the Canadian Space Agency (CSA) and the Japan Aerospace Exploration Agency (JAXA).