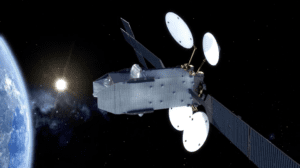 Edinburgh, 31 August 2022. – Launch company Arianespace, is to launch satellite operator Eutelsat's Konnect VHTS (Very High Throughput Satellite) telecommunications satellite built by Thales Alenia Space, aboard an Ariane 5 rocket on 6th September, Arianespace said.
Eutelsat aims to provide high-speed internet access throughout Europe, even in isolated regions, with the help of the mission. Konnect will be the 37th satellite launched by Arianespace for Eutelsat, since the companies started cooperating in 1983.
The 500-Gbps satellite, will provide high-speed internet access to low coverage areas in Europe as well. In terms of performance and cost, the Konnect VHTS offers a service comparable to fiberoptic networks. The spacecraft will also address the connectivity needs of telecommunications networks on land, sea and in the air, said the company.
The Thales Alenia-built Konnect VHTS carries a cutting-edge payload comprising the most powerful digital processor in the world. The technology combines agile capacity allocation, optimized spectrum use and support, and gradual network coverage deployment.