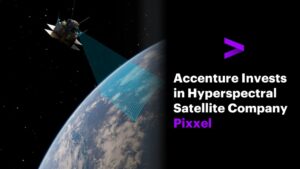 Edinburgh / New York / Bangalore, 31 August 2022. – Global professional services company Accenture, has made a strategic investment in Pixxel, an Earth imaging technology company, as part of Accenture Ventures' Project Spotlight, the company said. Project Spotlight is an engagement and investment program aiming to fill strategic innovation gaps, and helping startups harness human creativity.
Pixxel is working on the world's highest resolution hyperspectral imaging satellite constellation to offer AI-powered insights. The constellation will offer eight times more information and 50 times better resolution than existing satellites. The technology will focus on climate issues and will cost just a fraction of the price of traditional satellites. Pixxel's Earth Health Monitoring will enable organizations to detect events early on to help prevent disasters and damages.
The spacecraft will be able to capture images through hundreds of wavelengths revealing data invisible to other satellites. The hyperspectral satellites can be utilized across agriculture, mining, defense, environmental, and other critical industries on a global scale.
The first spacecraft of the six-satellite constellation are to be launched in early 2023 into a Sun-synchronous orbit. Pixxel is aiming to achieve daily global coverage by early 2024.