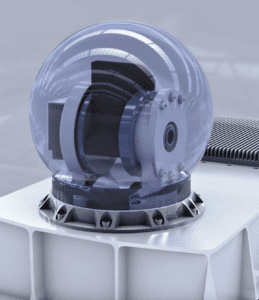 Aarhus / Munich / Melbourne, 7 July 2022. – Mynaric and L3Harris signed an agreement according to which L3Harris will invest in Mynaric to gain 7.2% of Mynaric's total shares and as a result widen the scope of their current collaboration to cover all domains including space, air, maritime and ground, Mynaric said.
L3Harris will invest approximately €11.2 million by means of a capital increase and acquire 409,294 shares of Mynaric at a price of € 27.37 per share.
Prior to the strategic investment agreement, the companies conducted joint laser communications demonstrations for L3Harris' airborne applications utilizing Mynaric's HAWK terminal. According to the agreement, Mynaric will become a preferred laser communications solutions provider while L3Harris will receive collaboration privileges. These comprise access to test capabilities, interoperability labs, testbeds and upcoming laser communications assets to be deployed on the ISS. 
Additional investments by L3Harris may intensify the collaboration between the parties in the future.