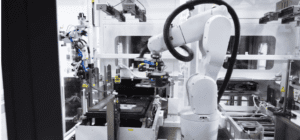 Budapest, 12 July 2022. – Information and communication technology provider, Ericsson, French aerospace company, Thales, and wireless technology innovator, Qualcomm Technologies, are taking 5G into space to conduct smartphone-use-case-focused testing and validation of 5G non-terrestrial networks (5G NTN).
The test results could validate the use of 5G connectivity anywhere on the planet while providing global coverage for wideband data services. Low Earth orbit (LEO) satellite 5G connectivity will enable coverage in extreme geographies or remote areas like seas, oceans and forests. The space-based network could also serve as a back-up to terrestrial networks during outages or disasters.
The project aims to validate that 5G NTN can be supported in a smartphone form factor allowing 5G smartphones to become satellite-phones, Ericsson said. Initial tests will take place in France, in an emulated space environment.
Ericsson plans to demonstrate a 5G virtual RAN (vRAN) stack, able to handle radio signals. Thales on the other hand, plans to verify a 5G radio satellite payload, while Qualcomm Technologies plans to provide test phones verifying 5G NTN technologies.