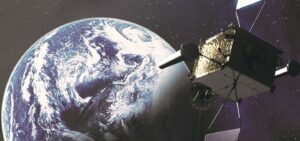 Edinburgh / Stevenage, 25 July 2022. – Airbus and Northrop Grumman have signed a Memorandum of Understanding (MoU) to address the UK Ministry of Defence's (MOD) Skynet Enduring Capability (SKEC) military satellite communications requirements as a joint team, Airbus said.
The merging of the experience, knowledge, and capabilities of the two companies will enable optimal solutions for the space and ground segments of Skynet. The team will work on the program together while ensuring that UK social value and industrial participation is maximised, Airbus said. The companies will take the "allied by design" approach to safeguard interoperability with key national allies.
The Skynet 5 program, a full service outsource contract carried out by Airbus, resulted in a suite of robust, reliable and secure military communications services. The program has been operational since 2003, however, Airbus has been involved in Skynet since 1974. 
Airbus was contracted to design and build the Skynet 6A satellite to supplement the existing Skynet 5 fleet in 2020. This program enhances the UK's military satellite communications (milstacoms) capability.