By Viktoria Urban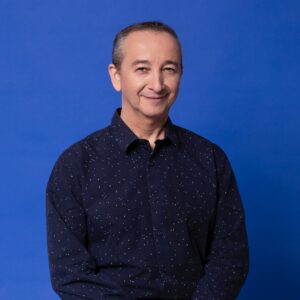 Our Space Café WebTalk "33 minutes with Meidad Pariente: Walking amongst giants – challenges of the private space sector in Israel, working in a country with massive defense companies" took place on Tuesday, 7th June.
Meidad is an entrepreneur and innovator with more than 25 years of experience in managing technologies. He is the CTO and Co-founder of SPACECIALIST, and CITO and Co-Founder of Sky and Space Company. 
Prior to all this, he was the CTO and Co-founder of Effective Space Solutions (Now Astroscale IL). Meidad advised space insurance companies and led several multidisciplinary programs for ImageSat International, Elbit space division, Technion and Rafael. He was the technical lead and AIT manager for "Duchifat-1", the first Israeli nanosatellite.
In the past, he worked at MBT-Space as a satellite operator, chief systems engineer, and chief architect for several communication and Earth observation satellites. During his carrier at Israel Aerospace Industries, Meidad won seven business improvement awards and two outstanding performance awards. He is also an experienced director and board member.
Meidad reflects on the start of his carrier saying that he almost became a professional football player but good karma brought him to the right place at the right time. He joined the first-ever group of students that were recruited to operate the first Israeli communication satellites, Amos. From then on, he could not stop thinking about space and started working in old space, on large satellites gradually changing to smaller and smaller satellites, until deciding in 2010 that it was time that Israel had prosperous civilian communication and a prosperous private space sector. He established the first fully private Israeli company dealing with New Space. 
Meidad explains that it was dreamer-innovator, former Prime Minister and later President of Israel, Shimon Peres, who actively enlisted Israel into the ITU (International Telecommunication Union) in order to reserve a slot for geostationary satellites. Later on, the Ministry of Defense had a need to have eyes in the sky and so the first-ever space project in Israel came to fruition due to security and safety reasons. In 1988, Israel became the eighth country in the world that possessed the ability to build, launch and operate its own spacecraft. 
"We are the only country in the world that actually launches westwards instead of Israel. And we are losing about 30% of the launcher capability due to the fact that we do not want to launch Israeli satellites in regions where they may harm or endanger other people." 
To date, there are over 30 private space companies in Israel, Meidad says. Just 12 years ago there were none and there was no need or market for private space companies. However, Meidad claims the country is lagging behind, and they are trying to close the gap.
The first Israeli nanosatellite was built in a high school with the help of high school kids, funded by the municipality. The program's success later opened the door for industries that realized that space was a good business and that it was achievable. 
"After you learn the disciplines of space, it's not different from any other technology project."
Meidad thinks the secret sauce in Israel is the lack of structure and that the mode of operation is fluid. He says that in Israel, the day-to-day life is constant problem solving and so it is in their DNA to never give up and never accept no for an answer.
He says that in the future Israel will be less focused on manufacturing hardware, and more focused on holistic and software-based solutions and applications. He thinks that since the country did such a tremendous work of bringing agriculture to deserts and turning the whole of Israel into a large greenhouse, they could bring these technologies and expertise to the Moon, and even Mars.
At the end of the talk it was announced that Meidad will host SpaceWatch.Global's upcoming Space Café Israel series, where he will interview Israeli space entrepreneurs, VCs, and perhaps politicians as well to find out more about Israel's vision for space in the near future.
To listen to the Space Café WebTalk's insights, you can watch the full program here:
Viktoria Urban, contributing Editor at SpaceWatch.Global: After graduating as a Journalist from Edinburgh Napier University, I am now doing an Astronomy and Planetary Science degree at The Open University (Scotland) which has enhanced my already existing love and enthusiasm for space. I am also a member of and a volunteer for several societies both in Hungary and in the UK and write online content on space for multiple companies as well. I hope my science communication will encourage many to find a job in the space sector, whatever their background and highlight important issues to ensure a sustainable space environment for future generations.