This Space Café WebTalk will feature Graham Turnock, Special Advisor to the European Space Agency, in conversation with Torsten Kriening, publisher of SpaceWatch.Global.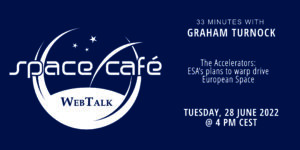 The Accelerators: ESA's plans to warp drive European Space
Graham Turnock of ESA explains how the Agency is acting on the recommendations of its High Level Advisory Group to rapidly raise the European Space Sector's response to key global challenges.
Graham has been a Special Advisor to the European Space Agency since 2021. Before this he was Chief Executive of the UK Space Agency from 2017-2021.
He has almost 30 years of experience working in Government and international organisations including in a number of posts in the UK Senior Civil Service and on secondment to the European Commission and French administration. He is an experienced board member in both the public and charitable sectors including currently as Treasurer of the Youth Hostels Association of England and Wales in the past as a Non-Executive Director of the Met Office. He holds a PhD in Particle Physics from Cambridge University for theoretical work at CERN and a diploma in public administration from the École Nationale d'Administration (ENA). Outside of work he is a keen cyclist.
The audience will have an opportunity to ask questions in dialogue with Graham Turnock.
SpaceWatch.Global is a Europe-based digital magazine and portal for those interested in space and the far-reaching impact of the space sector.
This Space Café WebTalk will be conducted in English on 28 June 2022 at 4 pm CEST.
Reserve your place today.