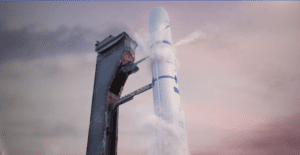 Edinburgh / Munich, 27 June 2022. – Launch vehicle company Isar Aerospace, has entered into a launch services agreement with space logistics company D-Orbit, to launch its ION Satellite Carrier to a Sun-synchronous orbit aboard Isar's Spectrum rocket from Andøya, Isar said. Under the agreement, D-Orbit will become Isar's primary customer from 2023.
Both NewSpace companies focus on contributing to the sustainable, technological, and economic development of humanity by making space accessible. Therefore, they are offering companies and public institutions an opportunity to deploy satellites in a flexible and cost-efficient manner, Isar claims.
The ION Satellite Carrier is capable of delivering satellites into specific orbits, hosting several payloads. The company says its solution can reduce the time from launch to operations by up to 85% and the launch costs of an entire satellite constellation by up to 40%. While D-Orbit releases spacecraft into distinct orbits, Isar Aerospace flexibly targets various orbits.