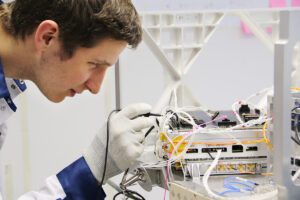 Edinburgh / Helsinki, 30 June 2022. – Earth observation company ICEYE, announced the establishment of a new line of business focused on delivering fully operational satellite missions to customers looking to get their own orbital SAR capabilities.
Governments and multinational corporations are able to purchase their own SAR (synthetic aperture radar) satellites from the company. They can then choose to operate them independently, or with the help of ICEYE. The firm has already secured satellite missions with international customers such as the Brazilian Air Force, operating satellites for environmental monitoring and national security reasons.
Lat year, ICEYE also entered into a partnership with Canadian company MDA. ICEYE will supply MDA with a SAR spacecraft to work in conjunction with MDA's broad area C-band SAR satellite. These will follow the same ground track to facilitate cross-cue operations to enable MDA's next generation commercial Earth observation system, CHORUS.
ICEYE's radar imaging satellites weigh around 100 kg and are able to produce high-resolution images in all lighting and weather conditions. The images, collected multiple times a day, are able to detect changes on the ground as small as footprints across a field, the company says.