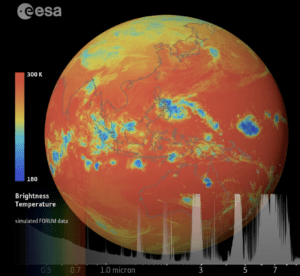 Edinburgh / Stevenage, 29 June 2022. – Airbus has been awarded a €160 million contract for ESA's FORUM satellite to help improve the accuracy of climate forecasts by measuring the heat emitted from Earth into space, Airbus said. The Far-infrared Outgoing Radiation Understanding and Monitoring (FORUM) mission will comprise the first satellite to observe Earth in the far-infrared range.
FORUM's spectrometer will enable scientists to examine Earth's greenhouse effect, the properties of ice clouds and water vapour in the atmosphere. The primary contractor is Airbus with the Stevenage site in the UK leading the development. Airbus Germany is responsible for the instrument signal detection chain, while Airbus France provides platform product support. OHB is going to work jointly on the instrument with Airbus.
FORUM's main instrument will be a Fourier Transform Spectrometer. It will produce measurements from which scientists will derive greenhouse gas characteristics. The satellite's thermal imager will validate ground samples. The spacecraft will weigh 883 kg and will operate from a polar orbit at an altitude of 830 km. ESA is planning to launch the satellite on a Vega-C launcher in 2027. FORUM is the 9th Earth Explorer mission and is part of ESA's Future EO Programme.