This Space Café Scotland will feature movers and shakers from the Scottish Space Ecosystem in conversation with Angela Mathis, CEO of ThinkTank Maths and a friend of SpaceWatch.Global.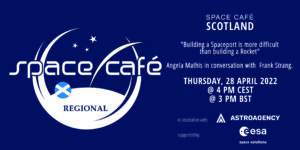 "Building a Spaceport is more difficult than building a Rocket" – Angela Mathis in conversation with Frank Strang.
Frank Strang is the Chief Executive Officer of Shetland Space Centre (SaxaVord Spaceport). SaxaVord Spaceport is now open for business and work has started on the ground preparing for sub orbital launch in October and orbital in November . The Ground Station has been operational since July and work started on the next two.
SaxaVord Spaceport is developing a launch site and ground station at Lamba Ness in Unst, Shetland.
This Space Café Scotland will be conducted in English and is brought to you in partnership with a strategic space marketing firm, AstroAgency, supported by ESA Space Solutions
SpaceWatch.Global is a Europe-based digital magazine and portal for those interested in space and the far-reaching impact of the space sector.
The audience will have an opportunity to ask questions.
This Space Café Scotland will be conducted on 28 April 2022 at 4 pm CEST/3 pm BST.
Reserve your place today.