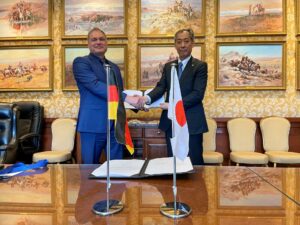 Edinburgh, 14 April 2022. – The German Aerospace Center (DLR) and the Japan Aerospace Exploration Agency (JAXA) extended their cooperation by adopting the 'Inter-Agency Arrangement for Strategic Partnership,' an extended framework agreement, DLR said. The goal is to promote cooperation between the two countries' aerospace industries. The extended agreement will form the basis for a wide range of joint activities and projects.
DLR and JAXA signed the first strategic partnership agreement in 2016 and have cooperated in Earth observation and on the ISS. They also carried out joint microgravity research, exploration and planetary research and space transportation, among others. The extension of the agreement now includes all joint activities in the field of aeronautics research.
Recently, DLR and JAXA – together with CNES (French Space Agency) – worked together on the Hayabusa2 mission going to asteroid Ryugu. Future missions stemming from the collaboration include the Martian Moons eXploration (MMX) mission, and DESTINY+. The latter is the 'Japanese Demonstration and Experiment of Space Technology for INterplanetary voYage with Phaethon fLyby and dUst Science,' a mission to asteroid Phaethon.