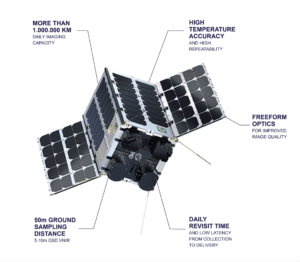 Edinburgh, 12 April 2022. – German thermal remote sensing specialist constellr, has acquired Belgian hyperspectral firm ScanWorld, in a first for Europe's emerging agricultural Earth observation sector, constellr announced. The merger will allow for actionable full-spectrum monitoring of water, carbon, energy and crop health. 
ScanWorld's expertise in hyperspectral product development reinforces constellr's thermal infrared and data processing capabilities. The acquisition will accelerate constellr's beyond-visual data services, starting with thermal data to help digital smart farming. Other applications include irrigation optimisation and soil organic carbon assessment.
The fusion of technological capabilities will bridge gaps in current data streams and allow for advanced data integration. This unlocks a range of potential use cases, like enhancing crop yield, detecting disease, and optimizing fertilization practices. The acquisition enables the company to address the need for soil quality monitoring, for a climate-resilient agri-food supply chain.