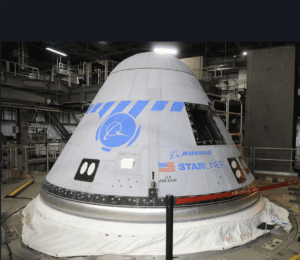 Edinburgh, 29 April 2022. – The second uncrewed Orbital Flight Test-2 (OFT-2) for NASA's Commercial Crew Program launching Boeing's CST-100 Starliner spacecraft atop a United Launch Alliance Atlas V rocket is targeted for 19th May, Boeing said.
During OFT-2, the company will test Starliner's and Atlas V's capabilities from launch to docking and re-rentry operations. This mission follows 2019's OFT-1, when the spacecraft failed to reach the ISS due to several glitches and software issues. 
NASA found 80 corrective measures while reviewing the failure in 2020. These corrections were resolved and OFT-2 was scheduled in for mid 2021 but the launch had to be delayed for a number of reasons. The Covid-19 pandemic, power outages, the Nauka module tilting the ISS and valve issues all contributed to the postponement.
Once the mission concludes successfully NASA and Boeing will determine when Starliner's first crewed flight test can take place. Both tests will provide important data needed for NASA to certify Boeing's crew transportation system. Starliner will regularly fly astronauts to and from the ISS.