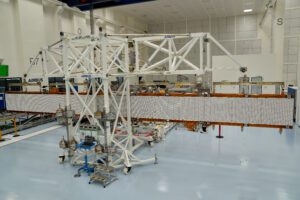 Edinburgh, 8 April 2022. – Arianespace has been awarded a launch contract by the European Space Agency (ESA) on behalf of the European Commission, to launch Sentinel-1C in the first half of 2023 on Vega-C, Arianespace said. The 2.3-tonne satellite, will be deployed in a Sun-synchronous orbit at an altitude of about 690 km.
Both Sentinel-1A and -1B were launched by Arianespace in 2014 and 2016. Sentinel-1C will improve the capacity of these two satellites to offer comprehensive environmental and security monitoring via radar systems. Sentinel satellites are part of the European Union Space Programme's Copernicus project. Its aim is to ensure continuous, independent and reliable Earth observation data in Europe.
Currently, Copernicus comprises of eight Sentinel satellites: Sentinel-1A and -1B radar imaging satellites, and Sentinel-2A and -2B optical imaging satellites. Sentinel-3A and -3B do ocean and atmosphere monitoring, Sentinel-5P monitors the quality of air, while Sentinel-6 monitors sea levels. Further Sentinel satellites are under development such as Sentinel-4, Sentinel-5 and the CO2 monitoring mission.
The new Vega-C launcher, built by Avio, has been upgraded to be suitable for launching satellites of the class of Sentinel-1C.