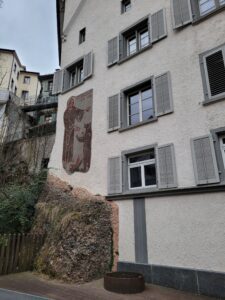 Our second day ended in a lovely restaurant disguised with the facade of a castle after a city tour where we learnt St. Gallen's history. The story is traced back to 612 a.d. where the Irish monk, Saint Gall, found a spot in a valley forest where he wanted to settle. There was one problem – there was a bear. The monk asked the bear to bring him some wood. Upon the bear's return the monk gave him some bread and asked him to never return again. Saint Gall established his settlement, which later became the Abbey, and with continuous growth turned into the current city of St. Gallen.
Day 2 of the course saw us first take an in-depth journey into space technologies and innovations discussing five clear segments: (1) materials and processes, (2) electronics and computing, (3) data sensing, analytics and applications, (4) space infrastructure, and (5) space tourism, space life sciences and medicine. Getting an overview of all different types of space technologies and innovations was incredibly insightful.
One new innovation to mention (as it was something I have never heard about before) is optical mining. In absolute layman's terms, according to a fellow participant, this process includes "cooking an asteroid and extracting the minerals". According to a NASA report, optical mining is the process of excavating and processing asteroid materials through the use of "highly concentrated sunlight which can be used to drill holes, excavate, disrupt, and shape an asteroid while the asteroid is enclosed in a containment bag".
Following the discussions about current space technologies and innovations, it became clear that automatization is a key development that will continue to impact all aforementioned segments. With this, a big challenge is deciding on certifications for in-space manufacturing. There would be a need for automated quality control to ensure safety and reliability – but who will do this?
It became clear that open innovation is essential to bring a product to the market, applicable for but not limited to only space. Open innovation, according to our lecturer Michael Gschweitl, is "the process of strategically managing the sharing of ideas and resources among entities to co-create value and to achieve mutual benefit". 
Discussions concerning the new space economy ventured off into many different tangents proving that there is still a lack of consensus. This subject appeared to be a bit confusing and contested at times with varying opinions about the reality of the NewSpace economy in Europe. Alongside the new space economy discussions, the question of legislation arises. It was striking to learn that the US, UAE and Luxembourg have legislations for the use of space resources. This discussion is far from over, especially when considering the Outer Space Treaty.
A key takeaway for me was that, due to the interdisciplinary and transversal nature of activities and the diverse of space and non-space actors working in the sector, there is a need for change management in space. A big lesson learned, which comes up time and time again is that space has a marketing problem – there is more that needs to be done in terms of communication, outreach, and awareness.
Stay tuned for more!
Yours,
Chiara