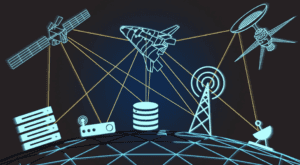 Edinburgh / Abu Dhabi, 16 March 2022. – SpaceChain is opening an office in the UAE, in Abu Dhabi to mark its foray into the burgeoning space sector in the Middle East, the company said. The new office is located at Hub71, Abu Dhabi's global tech ecosystem. Its aim is to focus on the planning and development of integrated space-blockchain projects in the Middle East and North Africa (MENA) region.
The company has launched six blockchain-enabled satellite payloads into space successfully to realize its DSI (decentralized satellite infrastructure) vision. SpaceChain MENA will collaborate with start-ups and organizations in the space, blockchain and fintech industries in the region. Their services offer solutions for applications such as e-wallets, space commodities exchange, and decentralized finance, among others.
The UAE government's National Space Strategy 2030 aims to boost the space sector and promote the country's presence in the space industry. It also sets guidelines for the space sector including government-, commercial-, and scientific activities related to space. According to Euroconsult's report, space spending in the MENA region has increased from US $755 million in 2010 to nearly US $1.3 billion in 2020.