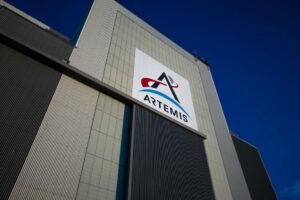 Edinburgh / Washington, 16 March 2022. – NASA said it was ready to roll out the Space Launch System (SLS) rocket tomorrow for a fueling and countdown rehearsal. 
The SLS with Orion mounted on it will be transported from the Vehicle Assembly Building (VAB) at the Kennedy Space Center to Launch Complex 39B. It will take approximately 11 hours for the spacecraft to reach the pad. SLS will spend a few weeks at the pad to undergo tests and a practice countdown dubbed "wet dress rehearsal". During this, the core stage of the rocket will be filled with liquid hydrogen and liquid oxygen propellants. 
The fueling process will take eight hours for the SLS as its upper stage also has to be filled with propellants. Countdown will stop before the core stage's four RS-25 engines could ignite. This will be the final major rehearsal before the Artemis 1 mission launches.
After the wet dress rehearsal, NASA will carry out post-test operations and servicing before transporting the rocket back to the VAB for the final launch preparations. The agency will set the launch date for Artemis 1 depending on how the tests and the rehearsals go in the coming weeks.