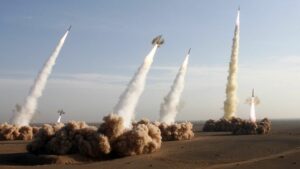 Edinburgh, 10 March 2022. – Iran's Revolutionary Guard has launched Noor-2, the country's second satellite into orbit, on board of a Qassed rocket, according to state media IRNA. The US alleges that Iran's satellite launches go against a UN Security Council resolution.
The first Noor satellite was launched in April 2020 after the country has experienced several failed launches due to technical issues. The successful deployment of Noor-2 is a major milestone for Iran but it also raises concerns about Tehran's nuclear and missile programs. 
According to the US, Iran's satellite launches breach a UN Security Council resolution and has called on Tehran "not to undertake any activity related to ballistic missiles capable of delivering nuclear weapons."
Washington's concern is that the technology used for deploying satellites could also launch longer-range weapons, like nuclear warheads. Tehran has rejected claims that it is covering the launch of such weapons with satellite launch activities.