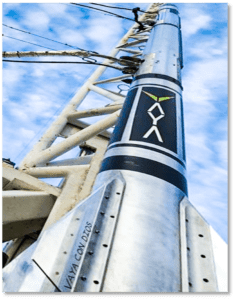 Edinburgh, 18 February 2022. – Vaya Space announced it successfully test launched its hybrid rocket, Dauntless, from Mojave, California, operating under an existing FAA (Federal Aviation Administration)  waiver.  The suborbital flight validated the STAR-3D engine powered rocket design running on 3D printed fuel grains from recycled thermoplastics.
STAR-3D has a stable, non-toxic, non-explosive and non-hazardous design, operating at ambient pressures and temperatures. The fuel only becomes high-energy once combined with liquid oxidizer and ignited, the company says. This enables safe transport, storage and handling, making it environmentally friendly as well.
Vaya has recently signed a Space Act Umbrella agreement with NASA, and already has several launch reservations for the next two years. The company is planning to kick off commercial orbital launches in 2023 from Cape Canaveral.