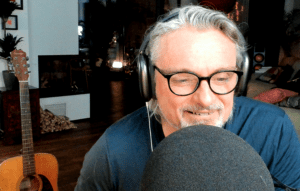 SpaceWatch.Global is pleased to present the 48th episode in our podcast series The Space Cafe Podcast #048: Martin Wezowski, Chief Futurist at SAP – Thoughts for New Space
Episode 048 features a special guest Martin Wezowski.
For all its glamor, enthusiasm and optimism, the new space industry has some serious homework to do. To have a future, what is happening in space now must not sound too much like the past. We must overcome old patterns and learn to think anew. Otherwise, space will become the same graveyard of ideas, resources and opportunities that we are turning Earth into. Martin Wezowski of SAP designs futures by profession. Space Cafe Podcast paid him a visit.
The Space Cafe Podcast brings our signature brand of engaging and relevant content from across the global space economy to you via an exciting new format. Together with award-winning Executive Producer, Markus Mooslechner (Terra Mater Factual Studios), our fortnightly podcast features highly interesting guests.
Each episode includes a review of important topics, as well as guest appearances and deep commentary from expert panellists from across the space sector.
Thanks to our global distribution partner, BookWire, the podcast is available on all major podcast platforms.