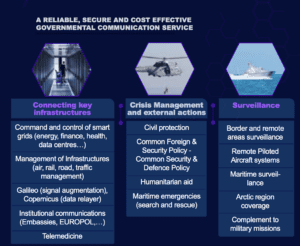 Edinburgh / Strasbourg, 16 February 2022. – The European Commission announced a number of initiatives in areas critical for defence and security within the European Union. These comprise the conventional defence industry and equipment to deal with threats on land and sea, in the air, cyber, and space. The Commission's aim is to strengthen the Union's ability to counter fast-changing multi-layered threats.
The European Defence Fund will have invested €1.9 billion in defence research and capability development by the end of 2022, the Commission said. It will explore incentives for the joint procurement of defence capabilities, including proposing a Value Added Tax waiver. This is to ensure not only the joint procurement of equipment, but maintenance and operations of defence technologies as well.
The Commission says it will also look into enhancing the protection of EU space assets through additional Space Surveillance and Tracking (SST) services. Together with the High Representative, they will also explore crisis response mechanisms in case of attacks and threats originating from space.
Furthermore, the Cyber Resilience Act will be proposed to strengthen cybersecurity and cyber-defence. The Commission is open to integrating additional steps in accordance with the evolution of the threats and challenges.