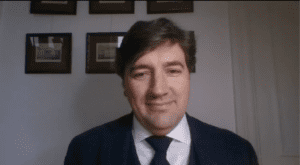 The first Space Café Scotland by Angela Mathis of 2022 took place on Friday, 18th February interviewing Alan Thompson, Head of Government Affairs at Skyrora, exploring what the company does with regards to space sustainability and how it helps to advance the UK, and the Scottish space sector in particular.
Alan Thompson's mission goes beyond Skyrora and even beyond Scotland believing that access to space is for the fundamental benefit of humankind. He explains that when he started working for the company, the UK space market was pretty much just a blank piece of paper with regards to launches. He says this represented a great challenge and opportunity to engage with the market and the authorities to start positioning their services. He believes that the only way to success anywhere in the world in the industry is collaboration.
Alan represents the engineering that goes into the company's launch vehicles while also overcoming roadblocks along the way by engaging with regulators before the regulations are even written. The UK had no such regulations in place up until the last few years since the last launch capability program, the Black Arrow, was abandoned in 1971.
Part of his job is to argue what getting to space means and why that needs to be regulated and what economic impact a home-based launch capability would mean for the country. Alan says that the UK needs to energetically support indigenous UK launch capabilities and not stop at the planned launch activities supported by non-UK launch companies.
Alan thinks that space in the UK is very disparate with environmental and defence aspects, Skynet, and the list goes on. What the UK lacks is the "totality of the vision," bringing all the different strands together. The most important questions to ask according to Alan is what the country's strategic capabilities are, and how we can align the industry to these capabilities. A responsible launch nation also has to be transparent and better manage what is happening in space.
"As a man on a mission, for as long as I pursue that, that strategic goal, that strategic vision, I think I've still got plenty here to do in the next five years."
Skyrora strives to have a sustainable presence in space, which means not only launching spacecraft but also maintaining and de-orbiting them. The company is committed to environmental sustainability and this is demonstrated in their diluting of liquid propellants to make them less toxic and essentially harmless, burning less hydrocarbons, delivering less CO2 emissions. The firm also developed its own eco-friendly fuel, Ecosene, using atmosphere-friendly unrecyclable plastic as rocket propellant.
The company also launched the "Finding Prospero," project to find this non-operational satellite which can be regarded as space junk while others think it should be regarded as space heritage. Alan thinks it is important to have these discussions to identify these unconformities in the industry involving stakeholders, astronomers and the general population.
To listen to Space Café Scotland's insights, you can watch the full program here: