By Ian Grosner
I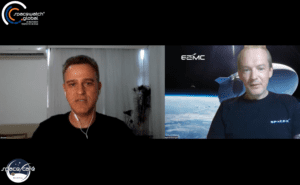 n this week's Space Café Brazil by Ian Grosner, he talked with Raphael Roettgen about the space economy sector.
Raphael said the role of educating the people about the benefits of space is crucial. The language must be less technical and more didactic to understand the importance of space activities. He also pointed out that the price for sending a space object has been drastically reduced. This was due to the entry of private actors in the sector and a decrease in component costs. He also said that the current moment of the space economy can be compared to the beginning of the internet in the 1990s, where the diversity of companies and startups of today did not yet exist. Although the private sector has grown a lot in the last decade, in his opinion, it is still possible to expand much more.
He said it is difficult to predict how much will be spent in the coming years. Still, considering the growth of recent years, even during the pandemic, it is very likely that this market will not stop growing anytime soon.
Raphael also said that a general space law in Brazil is fundamental so investors in the sector can be given legal certainty.
Finally, Raphael talked about his book called "Para cima: a nova economia espacial", which will be published in Portuguese in a few weeks.
Mr Roettgen also answered relevant questions from the audience.
This Space Café Brazil, held on 14 February 2022, was hosted by Ian Grosner, correspondent of SpaceWatch.Global in Brazil.
SpaceWatch.Global is an Europe-based digital magazine and portal for those interested in space and the far-reaching impact of the space sector.
Here's the video: