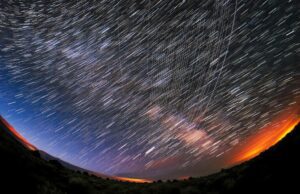 Edinburgh, 23 February 2022. – Specialists from industry-led group, Space Scotland, are jointly working on a roadmap focusing on environmental issues regarding space. Space-focused strategic communications and market intelligence provider, AstroAgency, and research and strategy consultancy, Optimat, will develop the roadmap on behalf of Space Scotland's Environmental Task Force with the backing of the Scottish Government.
The sustainability roadmap includes wide-ranging research, consultations with space sustainability experts and case studies from other sectors. It will pinpoint the required actions to achieve net zero ambitions and evaluate how space can be utilised to meet global challenges. 
The project will also emphasize how necessary it is to safeguard low Earth orbit. It will investigate space activities that can have an indirect impact on carbon emissions as well. The roadmap will also include space debris mitigation and the blinding effect satellites have on astronomical observations.
The study aims to promote a comprehensive approach to space sustainability and to boost meaningful international action. The roadmap will be shared with Space Scotland and sectoral stakeholders for approval before being published later this year.