by Blaine Curcio and Jean Deville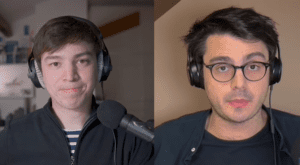 As part of the partnership between SpaceWatch.Global and Orbital Gateway Consulting we have been granted permission to publish selected articles and texts. We are pleased to present "Dongfang Hour China Space News Roundup, 2021 Top Trends and Events".
Welcome to another episode of the Dongfang Hour China Space podcast, and happy new year everyone! As it's a new year, in this episode we are going to look retrospectively at 2021, and present what we consider were the top-8 trends and highlights of the Chinese space sector over the past 12 months, ranging from space exploration, to launch vehicles, constellations, and satellite applications.
1) Going to the Moon with Russia: the kick-off of the ILRS, the other major space exploration program of the decade (with Artemis)
Leading highlight on the list of 2021 major China space events is China's announcement, with Russia, of the ILRS (International Lunar Res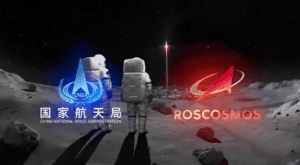 earch Station), a Chinese/Russian equivalent of the Artemis Program, and one which would take place over the next 15-20 years in 3 phases: Reconnaissance, Construction and Utilization. This project will include
goals such as lunar resource mining, in-situ resource utilization, energy harvesting, and perhaps more ambitiously: enabling Chinese and Russian astronauts to set foot on the Moon sometime in the 2030s.
Perhaps more interestingly from a geopolitical point of view, China and Russia, through this project, are offering countries an alternative to the US-led Artemis program, the other lunar exploration program, which has a head start of a couple of years. The offer of ILRS may be a convincing one, with strong funding and recent high-profile successes such as Chang'e 5 and Tianwen-1 coming from China, and Russia contributing its decades-long experience in space technology.
Of course, the question is whether China and Russia manage to convince other countries to join the ILRS, especially with China having a track-record of essentially national programs, although there have been some bilateral collaborations. Italy, Australia, the UK, Japan, South Korea, Brazil, New Zealand, Poland, the UAE, Ukraine, and more recently Mexico have all signed the Artemis accords. It will be interesting to watch if and who China/Russia will be able to attract. Rumors have suggested interest from France, Italy, Saudi Arabia and Thailand, but I guess we'll have to wait for 2022 to see a country make an actual official move.
2) China becomes the 2nd country to ever land a rover on Mars
In parallel to these preparations and announcements for future lunar activity, history was being made on Mars in 2021. Indeed, three historic missions, NASA's Mars 2020, UAE's Hope, and of course China's Tianwen-1 Mars missions made it to Mars early in 2021. While Hope and Mars 2020 were both absolutely fascinating in many regards, we'll be focusing on China's Tianwen-1. The Tianwen-1 mission is composed of an orbiter, a lander and a rover. The orbiter successfully reached Mars on Feb. 2021 after a 6-month trip. And after a reconnaissance phase of a couple of months during which the spacecraft remained in orbit around Mars, the orbiter released the lander carrying the Zhurong rover on May 15. The lander entered the Martian atmosphere successfully, successively braking aerodynamically, deploying supersonic parachutes, and using retropropulsion to touchdown softly. And ever since, the Zhurong rover has been roaming the Martian ground in the region of Utopia Planitia, and had driven 1253m by November 8 2021.
This mission is historical for China for many reasons. It's China's first fully independent deep space mission (beyond Earth's and Lunar orbit), and thus highly symbolic. It also makes China the second nation to ever successfully land a rover on Mars after the US, with European countries and Russia having failed in the past for various technical reasons. The breadth of the mission is also simply impressive: as the Chinese often like to say, Tianwen-1 accomplished putting an orbiter around mars, landing a lander, and a rover all in one mission, something that was done through separate missions by other space-faring nations. (latecomer's advantage). Ultimately, it symbolizes China's transition from a catch-up phase in space exploration, to a phase where it is attempting things that have not been done before, with its next missions (Mars sample return, permanent base on the Moon). The next decade is going to be absolutely fascinating to watch for space exploration, with an unprecedented number of ambitious projects.
3) Guowang and Plans for Mass Smallsat Manufacturing
April saw the creation of China Satellite Networks Limited, or 中国卫星网络集团, a state-owned enterprise that will be tasked with deploying the Guowang constellation, expected to be some thousands to tens of thousands of LEO satellites providing global broadband internet. A formal announcement on constellation size has not been made yet, but ITU filings from late 2020 suggest >10,000 satellites.
The creation of China SatNet gives China a centralized and high-level organization that is also seemingly independent of CASC, CASIC, and other incumbents. As such, China SatNet can (in theory) procure satellites, rockets, and other equipment from a variety of suppliers, including CASC, CASIC, and maybe, commercial companies. No formal timeline has been laid out for the deployment of Guowang, but we assume that 2022 will begin to see test satellites launched–indeed, 2021 may have already seen that, with a couple of mysterious "Low Earth Orbit Broadband 5G Test Satellites" launched in August of this year.
In December, we saw a meeting between China SatNet and the government of Chongqing City, during which time we saw China SatNet create two new subsidiaries, namely China SatNet Application Company Limited (中国星网网络应用有限公司) and the Chongqing Satellite Network Systems Research Institute Company (重庆星网系统研究院公司).
There were quite a few additional nuggets of information to extract from this ceremony. We will go into it in more detail during our Dongfang Hour China Space News Roundup for the week ending 2 January, but one point that is worth a mention comes from China SatNet Chairman Yang Baohua, who stated that "the construction of a national satellite internet system, and the establishment of China Satellite Network, are major strategi
c decisions made by General Secretary Xi Jinping and the Party Central Committee". (杨保华在致辞中表示,建设国家卫星互联网系统、组建中国星网是习近平总书记和党中央作出的重大战略决策). If we are to take Yang's word for it…then China SatNet, and the Guowang constellation, are such strategically important projects that they were called for by President Xi himself. This would presumably be good news for the development of SatNet, in that it has very high-level support. Again, more to dig into about this specific meeting in the weekly news episode, but a worthwhile update to mention in the annual one too.
In terms of hard infrastructure being developed for satellite constellations, 2021 also saw multiple companies advance their satellite manufacturing efforts, including Galaxy Space, GeeSpace, Commsat, and others. Surprisingly (given the number of launch startups in China), a major bottleneck for several batches of comms satellites has been launch vehicles, with most national launches being spoken for, and most commercial companies not yet launching regularly. Moving forward, we may see a rapid acceleration in deployment once China's commercial launch cadence picks up.
4) SAR Goes Mainstream
The very end of 2020 saw the launch of the Haisi-1 satellite operated by the CETC 38th Institute and Spacety, China's first commercial C-band SAR satellite. The timing ended up being perfect, with early 2021 seeing the M/S Ever Given, a container ship, get stuck in the Suez Canal, much to the dismay of its owners, but much to the benefit of a variety of EO satellite operators, including CETC38 and Spacety, with dozens of images of the ship captured by these satellites.
Later in the year, we saw SAR satellites play a big role in capturing and transmitting critical data during the flooding in Zhengzhou, Henan Province, which significantly raised the profile of satellites such as Gaofen-3.
As the year went on, we saw SAR become one of the hottest topics in Chinese commercial space. Among the SAR projects announced during 2021 was the 96-satellite Tianxian constellation, to be developed by Spacety and the CETC38. The very ambitious constellation is being led/likely bankrolled by CETC38, one of China's leading companies in terms of SAR technology, and a large subsidiary of the China Electronics Technology Corporation.
2021 also saw a 4-satellite SAR constellation announced by EO data analytics company PIESat. The announcement, made in late August, was well-received by Chinese financial markets, with PIESat's valuation increasing by ~40% over the rest of the year, to slightly more than RMB 13B (~US$2B) as of 24 December. The very end of 2020 saw a Silk Road SAR constellation announced, to be developed by Smart Satellite and Tongchuan City, Shaanxi Province.
We also saw the two Tianhui-2 satellites, developed by the CETC 14th Institute, in August 2021, with these satellites using SAR technology for 3D topographic mapping.
On the satellite manufacturing side of things, a number of commercial satellite manufacturers flexed their SAR credentials during the year. Notably Galaxy Space entered into an agreement with PIESat to develop unspecified elements of the latter company's 4-satellite SAR constellation, while Smart Satellite saw increasing support from the Tongchuan City Government for its SAR EO satellite industrial base and affiliated 12-satellite constellation.
During the year, we saw companies like Commsat outwardly announce hirings for SAR-related roles, in what seemed like a branching into SAR satellite manufacturing, and at the 2021 CCAF we saw SAR featured on booths of satellite manufacturers including Spacety.
Around 20 provinces also included specific support for remote sensing in their provincial-level five-year plans, published in 2021. Most of these were focused on application-level support, i.e. making use of remote sensing data for things like city planning, agriculture, disaster relief, etc., and are likely to benefit the large number of provincial-level data analytics companies in the EO segment. A smaller number of provinces have announced plans for their own (usually small) constellations. For a great deep-dive on SAR, we recommend an article from earlier this year that touches on global SAR trends and puts them in a Chinese context.
5) A significant year for launch, but that should have been bigger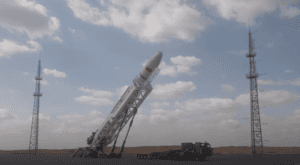 On paper, 2021 has been an extraordinary year for Chinese launch, and it arguably is, in many regards: with 55 launches, China literally shatters its previous record of 39 launches in 2020 and takes the lead, leaving the US behind at (the very honorable number of) 45 launches (or 51 if Rocket Lab's NZ launches are included). And that's saying something considering that SpaceX has been massively pumping out and deploying Starlink satellites.
Now behind this massive number of 55 launches are actually two trends:
– The first one is the burgeoning Chinese national space program, which represents an overwhelming majority of these launches, and with launches of many high profile payloads: the Tianhe-1 core module of the space station and crewed and cargo missions, science missions like the space-based solar observatory CHASE and Guangmu (Sustainable Development Science Satellite), many EO satellites (Gaofen, Yaogan), and comms satellites like GEO narrowband comms Tiantong and Tianlian relay satellites. Equally impressive were the details provided of future lunar rockets, the Long March 5DY and Long March 9, which will be the workhorses of China's ILRS lunar base program, with hints of a maiden launch for the former by 2026. So really a very big year for the national launch program.
– The second one is perhaps the more disappointing one, regarding commercial launch. 2021 should have been an unprecedented year for Chinese commercial launch companies:
For one, we were expecting the maiden launch of the ZQ-2, the medium-lift liquid fueled rocket of Landspace. Not only would this have been the symbol of Chinese commercial launch companies transitioning from small lift solid fueled rockets, to larger capacity, more efficient rockets that can utilize reusability. Interestingly, had the launch taken place, Landspace would have been the first company worldwide to perform an orbital launch of a methalox fueled rocket, ahead of SpaceX's Starship, although we are naturally not talking about the same category of launch vehicles.
The Hyperbola-2Z, which is a single stage version of the Hyperbola-2, the methalox fueled medium-lift launch vehicle of a competing launch company called iSpace. iSpace has adopted a different strategy to Landspace: they seem to want to make their Hyperbola-2 rocket reusable from day one, which is why they are first planning to test VTVL first stages, the Hyperbola 2Z, to perform hops. The Hyperbola-2Z was initially planned for 2021, but this has now slipped to 2022.
Finally, the Tianlong-1, also a liquid-fueled reusable rocket by a Chinese company called Space Pioneer (or Tianbing Aerospace), had ambitiously mentioned a maiden launch in 2021, but this has also slipped to 2022.
Beyond these highly symbolic launches not taking place, there were also some pretty big setbacks for 2 commercial companies: Expace (failure of the Kuaizhou-1A rocket in December) and the double failure of the Hyperbola 1 for iSpace.
This doesn't mean the year was all bad for Chinese commercial launch: we did have some major milestones such as the 100m hops of Deep Blue Aerospace, or the comeback of presumed dead companies such as OneSpace and Linkspace.
Galactic Energy also launched successfully two Ceres-1 rockets in a row, a first for a Chinese commercial launch company, and they are planning to ramp up to 5 launches in the next 12 months. So not too bad, but still a bit of a let-down based on initial expectations.
Now the corollary of this is that… 2022 is going to be absolutely insane: not only should we see the maiden launches of the aforementioned rockets, but also add to the list the ZK-1A, the Jielong-3, and possibly the Kuaizhou-11 and Nebula 1. Perhaps in the future we will look back at 2022 and see it as the dawn of Chinese commercial launch services.
6) Developments in Launch Infrastructure
China's launch infrastructure saw a big year in 2021, in particular commercial launch sites, and sea launch facilities. Commercial launch sites made an appearance in multiple five-year plans, notably for Zhejiang Province, and seemingly in the national-level five-year plan. In Zhejiang, the commercial launch site is apparently being built in Xiangshan, Ningbo, which is not far down the coast from a rapidly-growing commercial launch industry cluster near the mouth of the Yangtze River.
The launch site was first proposed in 2018, but began to pick up momentum in 2021 when it was included in the major project list of the Zhejiang Province 14th Five-Year Plan (2021-2025), a draft of which was published in April. The Five-Year Plan specified the "Ningbo International Commercial Launch Center" as one of the province's major projects over the coming 5 years. According to the Zhejiang Provincial Government, the launch center has an investment of ¥20 billion, with an annual launch capacity expected to be ~100 launches.
Moving forward, we expect the Ningbo Commercial Launch Center to become an important part of China's space infrastructure by 2025. Ningbo's location on the sea (allowing for launches to occur not over land), its large port, and its access to major space industry infrastructure in Shanghai, should all benefit the development of the Launch Center.
Shandong Province has been home to a number of updates related to a launch site in Yantai, and multiple sea launch initiatives which may be based in/near Yantai. Activity at Yantai has included assembly of a ZK-1A rocket from CAS Space, an apparent Zhuque-2 sighting, and an October ceremony for a sea launch facility at the Oriental Space Port or 东方航天港.
The sea launch facility includes a new type of ship measuring 162.5m long and 40m wide, a story that we covered in-depth a few weeks ago on the Dongfang Hour. Multiple commercial launch companies have made statements related to sea launch during 2021, including CAS Space, Galactic Energy, and oSpace, with the latter having a major presence in Shandong.
In the South of the country, Hainan has seen activity from commercial companies and local government. In September, we saw the Wenchang International Aerospace Forum, held in Haikou, which saw officials emphasize the benefit of Wenchang's southerly latitude for GEO launches, and also encourage commercial launch companies to set up in Hainan.
The commercial launch companies apparently heard the call, with November seeing iSpace set up a subsidiary in Wenchang, near the country's southernmost launch site. During the opening ceremony for iSpace Wenchang, the company and the local government agreed to work together to promote commercial launches. We also saw an interview with CAS Space General Manager Hu Xiaowei in December 2021, during which time he noted that in the future, the company might be able to ship rockets from its facility in Nansha, Guangzhou, to Hainan by sea.
Ultimately, at the end of 2021, China's launch infrastructure remains the same as it has been for some years, namely 4 state-owned launch sites located very far from most cities and most of the rocket supply chain. However, during this year, we have certainly seen the foundation laid for a new generation of launch sites that will be more coastal, more flexible, and more integrated with existing supply chains.
7) Space Tourism and Spaceplanes
Similar to the west, this year also saw space tourism become more mainstream in China following launches from SpaceX and Blue Origin. Most recently, we saw Justin Sun, a Chinese crypto millionaire, book a flight on a Blue Origin rocket for 2022 for he and 5 others.
More directly related to Chinese space, 2021 saw iSpace and CAS Space announce plans for a "Chinese New Shepard", while Space Transportation completed multiple rounds of funding and a number of test flights of its Tianxing series of supersonic spaceplanes, while also announcing plans for a suborbital space tourism spaceplane.
These plans have been met with increasing financial support, with Space Transportation having raised ~RMB 300-400M during the year, and CAS Space completing multiple funding rounds. Multiple companies seem to be straddling a line between different shades of space tourism, reusable spaceplane, commercial launch company, and other undefined or niche verticals.
Arguably, this is similar to satellite manufacturers/satellite operators that are straddling the line between different business models related to satellite manufacturing and operation, uncertain of which area will become more/less regulated. In this case, we see companies developing technologies that could be applied to hypersonic spaceplanes, space tourism, etc.
8) China begins the construction of its ambitious Chinese Space Station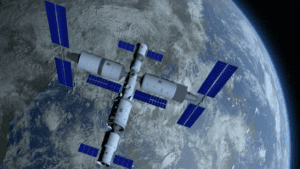 The last big event in Chinese space from my side is the construction of the Chinese Space Station. Just to put this into perspective; this represents the culmination of 30 years of work of China's Project 921, which is the name given to China's crewed spaceflight program. A quick retrospective: this project first consisted in the late 1990s and early 2000s in developing a human-rated rocket, the LM-2F, and a crewed spacecraft, the Shenzhou, which is basically an upgraded Soyuz spacecraft design. This phase was successfully concluded in 2003 with the launch of the taikonaut Yang Liwei. The next phase, which spanned from the mid-2000s to roughly 2017, was aimed at gathering technologies to enable human activity in LEO (building experimental space stations, cargo spacecraft, practicing space rendez-vous and docking, designing a spacesuit, performing spacewalks).
And finally in 2021, the 3rd phase has begun: the actual construction of a permanent Chinese Space Station, called the Tiangong Space Station (which means "Heavenly Palace"). This phase will last 2 years only, this year in 2021, and will be completed next year.
The Tiangong Space Station is composed of 3 modules, the core module called Tianhe-1, and two experimental modules called Wentian and Mengtian. The core module is the main control center, living quarters, and hosts the main propulsion compartment, while the experimental modules extend the capabilities of the station. The core module was launched in April 2021, and since then, has been visited by two teams of taikonauts on two separate Shenzhou spaceflights, of which the last team of 3 taikonauts are still on-board and planning to complete a 6-month stay. Two cargo missions, the Tianzhou 2 and 3, also docked with the station, delivering equipment and food/water supplies for the taikonauts.
Overall, this represents 5 launches related to China's crewed spaceflight program, an unprecedented dynamic since the beginning of the crewed program, and it will be followed by 6 other launches next year which will complete the space station. The Tiangong Space Station represents the second station in service at the moment to orbit the Earth, alongside the ISS which should still be in service until the end of the decade.
 This has been another episode of the Dongfang Hour China Space News Roundup. If you've made it this far, we thank you for your kind attention, and look forward to seeing you next time! Until then, don't forget to follow us on YouTube, Twitter, or LinkedIn, or your local podcast source. 
Blaine Curcio has spent the past 10 years at the intersection of China and the space sector. Blaine has spent most of the past decade in China, including Hong Kong, Shenzhen, and Beijing, working as a consultant and analyst covering the space/satcom sector for companies including Euroconsult and Orbital Gateway Consulting. When not talking about China space, Blaine can be found reading about economics/finance, exploring cities, and taking photos.
Jean Deville is a graduate from ISAE, where he studied aerospace engineering and specialized in fluid dynamics. A long-time aerospace enthusiast and China watcher, Jean was previously based in Toulouse and Shenzhen, and is currently working in the aviation industry between Paris and Shanghai. He also writes on a regular basis in the China Aerospace Blog. Hobbies include hiking, astrophotography, plane spotting, as well as a soft spot for Hakka food and (some) Ningxia wines.