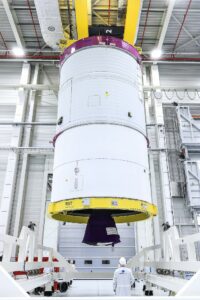 Edinburgh / Bremen / Les Mureaux, 4 January 2022. – The Ariane 6 core and upper stage are on their way to Kourou, French Guiana scheduled to arrive at Europe's Spaceport this month, ArianeGroup reported. The two stages will undergo combined testing on a new launch pad built under the supervision of the French Space Agency, CNES.
The core and upper stage will be horizontally integrated in Ariane 6's new Launcher Assembly Building. After this, the launch vehicle will be brought to a vertical position to fit the solid rocket boosters. The boosters will not be fired during testing, so they will be filled with an inert material instead of fuel.
The tests will require the main stage to be hot-fired and the Vulcain 2.1 engine ignited several times. The purpose of the combined tests, scheduled to begin in April, is to test all the interfaces. Communications between the launch vehicle and the ground control of the new Ariane 6 launch base will also be tested. 
As vital parts of the launch sequence, the flight software, fueling and drainage operations will be tested as well. In parallel with these tests, Ariane 6's upper stage will also be hot-fire tested on the DLR (German Aerospace Center) site in Germany.