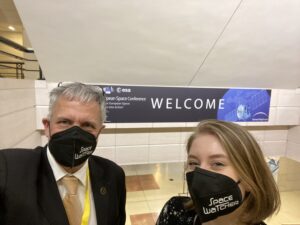 During this week's Space Café, SpaceWatch.Global Publisher Torsten Kriening sat down with Chiara Moenter event coordinator, Space Cafe Benelux and Space Cafe Radio Host at SpaceWatch.Global and the co-founder of "SDG18: Space for All". Currently, she is doing her masters in Sustainability Science at Maastricht University.
On 25-26 January 2022, 200 representatives of the European space domain gathered in Brussels for the 14th European Space Conference, organised by Business Bridge Europe. Over 1000 people followed the event online, for two days of dynamic and thought-provoking debates and exchanges focusing on the theme "A New Era for European Space: Turning Vision into Action".
At a time when many of the programmes and frameworks that have been the focus of the domain have been established, the focus is now shifting to their implementation, as well as to new priorities and initiatives that will be crucial to ensuring that Europe remains a leader in space, all issues which will be at the centre of our Conference.
To listen to the conversation you can watch the full program here: