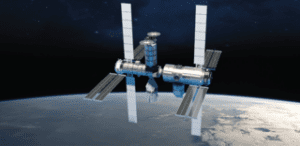 Paris/ Washington, 6 December 2021. – NASA has awarded a $415.6 million to three U.S. companies to design commercial space stations, the U.S. agency said last week.
The companies that received awards are Blue Origin ($130 million), Nanoracks ($160 million) and Northrop Grumman ($125.6 million).
The agreements are part of the agency's efforts to enable a "robust, American-led commercial economy in low-Earth orbit" (LEO), NASA said, maintaining an "uninterrupted U.S. presence in low-Earth orbit by transitioning from the International Space Station to other platforms".
The awards are the first in a two-phase approach to ensure a seamless transition of activity from the International Space Station to commercial destinations. During this first phase, private industry, in coordination with NASA, will formulate and design commercial low-Earth orbit destination capabilities suitable for potential government and private sector needs. The first phase is expected to continue through 2025.
Blue Origin and Sierra Space have partnered to develop Orbital Reef, supposed to start operating in the second half of this decade. Nanoracks' commercial LEO station is called Starlab and is developed in collaboration with Voyager Space and Lockheed Martin; it is targeted for launch in 2027.
In addition to these new awards NASA selected Axiom Space in January 2020 to design and develop commercial modules to attach to the station.