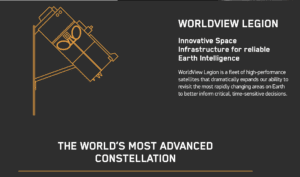 Luxembourg/ Westminster, Colorado, 23 December 2021. – Maxar Technologies extended its contracts with three long-standing international defense and intelligence customers, the company said.
The three agreements total more than $100 million and extend these customers' ability to directly task and download 30 cm-class satellite imagery to their ground stations from Maxar's constellation under its Direct Access Program, the provider of geospatial intelligence said.
The program "enables defense, intelligence and commercial customers to access the world's most advanced Earth imaging satellites, with encrypted downlinks, committed availability and data distribution rights that fit mission needs", Maxar said.
One of the contracts provides a commitment to purchase direct access to Maxar's next-generation WorldView Legion satellites, the first of which are expected to launch between 15 May and 13 June next year. This is Maxar´s second commitment for WorldView Legion capacity, the company listed at the New York Stock Exchange added.