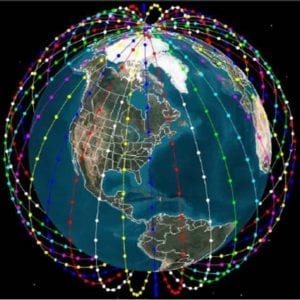 Paris/ Washington DC, 5 November 2021. – A cornucopia of satellites and a run on V-band: Telesat, Astra and Hughes filed requests to the U.S. Federal Communications Commission (FCC) to place and operate altogether nearly 17,000 small satellites in low Earth orbit (LEO), the companies´ FCC filings revealed.
Canadian Telesat intends to overlay its planned Lightspeed constellation of 298 satellites with a second round of a new LEO broadband constellation of 1,373 satellites, operated in V-band and LEO.
Astra filed a request to build a LEO broadband constellation with ultimately as many as 13,620 non-geostationary satellite in V-band, which the launcher startup wants to manufacture in-house, based on its knowhow in developing small launch vehicles. Astra said it proposes a 3-phase approach with the large majority of the satellites and planes occupied in the third phase.
At the same time, Hughes Network Systems filed a request to the FCC to build a LEO broadband constellation with 1,440 satellites in 36 LEO planes, also in V-band, the so-called HVNET system.
Astra also said that it intends to make another attempt to launch a test payload on its small launcher into orbit as early as next week, after the three previous missions failed.