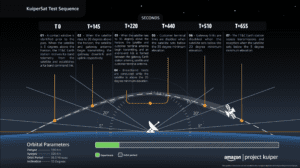 Edinburgh, 2 November 2021. – Amazon's Project Kuiper will launch two satellites by the end of 2022 on ABL Space Systems' RS1 rocket, Amazon announced.
The company filed an experimental license application with the Federal Communications Commission (FCC) to launch, deploy, and operate two prototype satellites.
Project Kuiper, a LEO satellite constellation will provide fast, affordable broadband to unserved and underserved communities around the world, according to Amazon.
KuiperSat-1 and KuiperSat-2 enable the testing of the communications and networking technology that will be used in the final satellite design. The prototype launches will also validate launch operations and mission management procedures used for the full constellation.
KuiperSat-1 and KuiperSat-2 are designed for atmospheric termination and will be actively de-orbited after the mission. The team is also working with astronomers on reducing the visibility of Kuiper System satellites.
Launches will take place at Cape Canaveral Space Force Station on ABL's RS1 rocket, using their GS0 mobile launch system. The companies have already completed two integration design reviews and will conduct an initial fit check early next year.