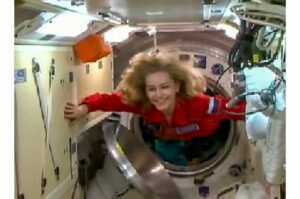 Edinburgh, 6 October 2021. – Show business in space: Russian actress Yulia Peresild, 37, and film director Klim Shipenko, 38, arrived at the ISS on Tuesday after a smooth take-off from Baikonur Cosmodrome. They are on a 12-day mission filming the first movie in orbit.
The crew travelled in a Soyuz MS-19 spaceship and docked behind schedule. They are to film scenes for the movie "The Challenge", featuring a female surgeon dispatched into space to save a cosmonaut. The three Russian astronauts already aboard the ISS will have cameo roles in the movie.
Pereslid, selected from 3,000 applicants, beat Hollywood star Tom Cruise to filming in space, a project that was announced by the Mission Impossible actor last year. Shipenko and Peresild will return to Earth on 17th October with a film crew documenting their landing.
The mission is just another first for Russia's space industry after launching the first satellite Sputnik, and sending Laika, the first animal into space. They were also the first to send a man, Yuri Gagarin, and a woman, Valentina Tereshkova, into orbit. In December, Russia will send two Japanese tourists to the ISS to take its place in commercial space travel as well.