This Space Café WebTalk will feature Gérardine Goh Escolar, adjunct Professor of Law at the National University of Singapore and First Secretary at the Hague Conference on Private International Law, in conversation with Torsten Kriening, publisher of SpaceWatch.Global.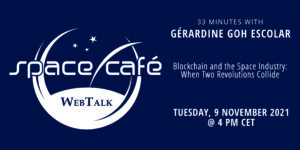 Blockchain and the Space Industry: When Two Revolutions Collide
Gérardine Goh Escolar is adjunct Professor at the Faculty of Law, National University of Singapore, where she teaches international space law. She is also First Secretary at the Hague Conference on Private International Law, an international intergovernmental organisation, where she has primary responsibility over the Digital Economy project and the International Commercial and Financial Law portfolio. She specialises in the intersection of technology, policy, and law, building effective solutions to the challenges our communities face by leveraging new technology and the legal and policy resources available at the international and transnational levels. Geri's work focuses on entrepreneurial and social impact opportunities that can be designed, implemented, and iterated with an eye towards long-term sustainability and inclusive dialogue at the international level.
In this WebTalk, Gérardine Goh Escolar will discuss the interaction between the applications of distributed ledger technology (DLT) and the space industry. How can blockchain applications leverage space technology? How can the space industry continue to innovate by incorporating blockchain applications? What legal and policy issues arise as the digital and crypto economy increasingly overlaps with the space economy? The future of Humanity's activities in outer space and the digital space is here, and it certainly looks promising and exciting. What will we build in these spaces?
The audience will have an opportunity to ask questions in dialogue with Gérardine Goh Escolar.
SpaceWatch.Global is a Switzerland-based digital magazine and portal for those interested in space and the far-reaching impact of the space sector.
This Space Café WebTalk will be conducted in English on 9 November 2021 at 4 pm CEST.
Reserve your place today.