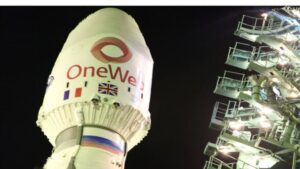 Luxembourg/ Riyadh, 27 October 2021. – The British LEO operator OneWeb and the Saudi-Arabian megacity project NEOM want to bring high-speed satellite connectivity to Saudi Arabia, the wider Middle East and neighboring East African countries, OneWeb announced.
The NEOM Tech & Digital Holding – the first company established as a subsidiary of the futuristic megacity project NEOM – and OneWeb have signed a $200 million agreement to use OneWeb´s constellation for broadband connectivity in the larger region.
The partnership will "not only provide the rapid and reliable connectivity to enable NEOM's ecosystem of cognitive technologies, but also transform businesses and rural communities in the region where access to fibre-like internet was previously unimaginable", OneWeb said.
OneWeb says it is "the only licensed operator in Saudi Arabia"; NEOM Tech & Digital and the new joint entity will have exclusive rights to distribute OneWeb services in its target regions for seven years from the initiation of the LEO satellite network, which is expected to commence in 2023, the satellite operator added.