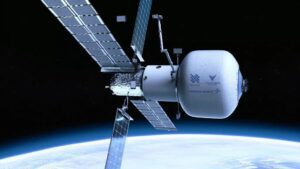 Paris, 22 October 2021. – Nanoracks, Voyager Space and Lockheed Martin want to develop the "first-ever free-flying commercial space station", Starlab, the companies said.
The space station will be a continuously crewed commercial platform, dedicated to conducting critical research, fostering industrial activity, and ensuring continued U.S. presence and leadership in low-Earth orbit (LEO), the partners said.
Starlab is expected to start operations by 2027.
Nanoracks will lead the development, leveraging over a decade of experience as the pathfinder of and global leader in commercial ISS utilization, the company said.
Voyager Space, the majority shareholder in Nanoracks, will lead strategy and capital investment and Lockheed Martin will serve as the manufacturer and technical integrator.
The U.S. space agency NASA had recently announced the Commercial Low-Earth Orbit (LEO) Destination (CLD) project, to support the development of private space stations. CLD will stimulate a multifaceted LEO economy and provide science and crew capabilities in LEO before the International Space Station (ISS) retires, Nanoracks said.