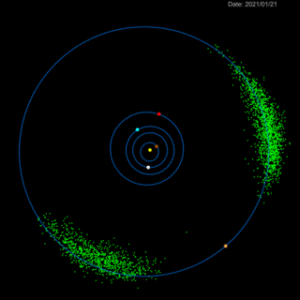 Edinburgh, 18 October 2021. – NASA's Lucy mission to Jupiter's Trojan asteroids successfully launched on Saturday on a United Launch Alliance (ULA) Atlas V rocket from Space Launch Complex 41 in Cape Canaveral.
Over the next 12 years, Lucy will fly by one main-belt, and seven Trojan asteroids. The spacecraft will investigate "fossils" of planetary formation.
Lucy separated from the second stage of the rocket about an hour after launch and its two 7.3-metre wide solar arrays successfully unfurled 30 minutes later. The arrays began charging the spacecraft's batteries to power its subsystems, NASA reported.
The spacecraft is now travelling at 108,000 kph to reach the asteroids that are as far away from Jupiter as they are from the Sun. It will reach the Trojans in 2027 following two gravity assists. After examining the asteroid swarm ahead of Jupiter, it will receive a third gravity boost to reach the ones trailing behind the planet in 2033.
Scientists and engineers started working on the Lucy mission concept in 2014. The Lockheed Martin-built spacecraft is the 13th mission of NASA's Discovery Program which is managed by NASA's Marshall Space Flight Center. Meanwhile, NASA Goddard provides overall mission management, systems engineering, safety and mission assurance.