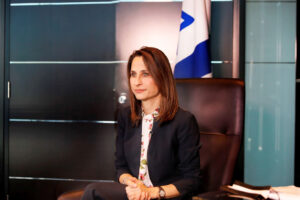 Edinburgh, 21 October 2021. – The UAE Space Agency announced that it has signed a Memorandum of Understanding with the Israel Space Agency to intensify cooperation in scientific research, space exploration and knowledge transfer. The agreement aims to accelerate economic growth and human progress.  
The MoU was signed by Sarah bint Yousef Al Amiri, Minister of State for Advanced Technology and Chairwoman of the UAE Space Agency, and Orit Farkash-Hacohen, Israel's Minister of Innovation, Science and Technology. The bilateral deal between the countries includes a lunar mission, education and dealing with desertification and climate change, a top Israeli official told Emirates News Agency (WAM). 
Israeli Moon mission, "Beresheet 2," is scheduled to launch in 2024. The educational project involves launching a spacecraft to the Moon. The images transmitted will help students to learn about our satellite and space science in general, Farkash-Hacohen said. The first "Beresheet" mission, launched in 2019 crash-landed onto the lunar surface just minutes before it was due to land. 
The Israeli minister said that as a second project, they wanted Emirates to join the "VENUS" satellite mission launched in 2017, a collaboration between Israel and France. Data from this satellite could help precision farming, water monitoring, as well as tackle desertification. 
The third joint mission is an educational satellite project to promote the coexistence of Arab and non-Arab students in Israel.