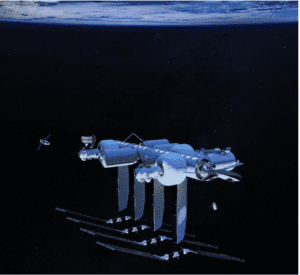 Edinburgh, 26 October 2021. – Blue Origin and Sierra Space announced the plan to build a commercially developed, owned and operated LEO space station, called Orbital Reef, by 2030. The project is supported by Boeing, Genesis Engineering Solutions, Redwire Space, and Arizona State University.
The destination will offer research, industrial, and commercial customers cost competitive services, Blue Origin said. These include space transportation and logistics, space habitation, equipment accommodation, and operations. Orbital Reef will operate as a global, "mixed use business park" in space. Human-centred architecture, reusable space transportation along with advanced automation and logistics will enable a wide range of users to visit the outpost.
Blue Origin will provide utility systems, core modules, and the reusable, heavy-lift New Glenn launch system, making them the primary launch provider. Sierra Space will add the expandable Large Integrated Flexible Environment (LIFE) module as primary living quarters and their runway-landing Dream Chaser spaceplane. Boeing will be responsible for the science module, station operations and maintenance and will make their Starliner crew spacecraft available as well. Genesis Engineering Solutions will contribute with a single person spacecraft for routine operations and tourist excursions.
The plan is to get a baseline configuration of Orbital Reef up and running by the late 2020s. This will comprise a power system, a core module, a LIFE habitat, a science module and a Genesis spacecraft. This initial outpost will be 830 cubic metres in size, able to support up to 10 people. The space station will keep growing over time, as per demand.