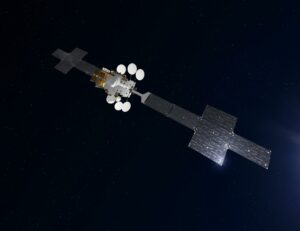 Paris, 24 October 2021. – Triple A: Arianespace has launched another Ariane 5 from ArianeGroup with two giant satellites on board and broke the record of the largest total mass injected with a single flight into the geostationary transfer orbit (GTO).
For its 111th launch, flight number VA255 from Kourou, French Guiana, Ariane 5 executed the "highest performing flight by any launcher to geostationary transfer orbit", ArianeGroup said, with two payloads weighing 10.2 tons and a total mass of 11.2 metric tons – "a world record for injection into this orbit". The launch also included a 1.5 m extension of the fairing in order to adapt it to the specific needs of its two passengers.
The two satellites that Arianespace orbited were SES-17, a high-throughput and spotbeam telecommunications satellite operated by SES, and SYRACUSE 4A, a super secure and resilient telecommunications satellite developed for the French Ministry of the Armed Forces. Both spacecraft were manufactured by Thales Alenia Space and together, could represent a total payload value of 1 billion Euros.
ArianeGroup and Arianespace are now on track for another challenge: the launch of the 10 billion US dollar James Webb space telescope at a distance of 1.5 million kilometers.
Including the telescope mission, Ariane 5 will still launch six times until it will retire and be replaced by Ariane 6.