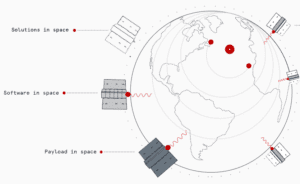 Edinburgh, 29 September 2021. – Spire Global  announced a new partnership with SpaceChain to launch a mission demonstrating the feasibility of blockchain technology computation in space. The cooperation aims to resolve land-based centralised infrastructure issues as well.
SpaceChain is a global space-as-a-service solutions provider developing "the world's first" decentralised satellite infrastructure. The company has worked with launch service providers, national space agencies, data analytics start-ups and satellite manufacturers. The integration of blockchain and space technologies help create an infrastructure on which the decentralised satellite applications can be built. No land-based infrastructure is needed for running these applications.
Companies in the blockchain industry have been trying to reduce points of risk where a centralised administrator could tamper with funds and data. A solution to this problem is decentralising access by distributing data across multiple centres, countries, and even continents. By deploying all this into space, Spire and SpaceChain plan to maximise data security.
Spire will use its Sabertooth supercomputing module, the fastest and most power-efficient AI computing device the company currently has. This, together with SpaceChain's infrastructure, will be integrated in a two-part mission. Spire will upload SpaceChain's software to an existing satellite on orbit, and will then build out capabilities via a new satellite payload to be launched later this year.