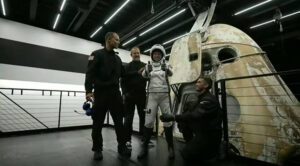 Edinburgh, 20 September 2021. – SpaceX Crew Dragon capsule, Resilience, touched down in the Atlantic Ocean, off the coast of Cape Canaveral, Florida on Saturday. The spacecraft carried the four members of the Inspiration4 mission safely back to Earth after spending three days in orbit.
SpaceX loaded the capsule onto its recovery ship in less than an hour so that the crew could exit. They were all then taken to NASA's Kennedy Space Center. Jared Isaacman, Sian Proctor, Hayley Arceneaux and Chris Sembroski orbited Earth 15 times a day at an altitude of 590 km. A couple of issues had to be resolved during the spaceflight, SpaceX said. These included problems with the fan within the waste management system.
The mission marks SpaceX's third time of returning astronauts from space, and the second time for Resilience. The capsule only returned to the planet in May bringing the Crew-1 mission for NASA back to Earth. This was the first private SpaceX spaceflight, with an entirely civilian crew. The mission also saw the first black female spacecraft pilot, the youngest American astronaut, and the first person going to space with a prosthesis.
Another goal of the mission was to raise US $200 million for St. Jude Children's Research Hospital, which amount has already been exceeded. Isaacman donated US $100 million personally and Elon Musk contributed US $50 million himself.
There have been an increased number of inquiries regarding private spaceflight since touchdown, SpaceX said. The company can fly five-six private missions per year and they are working to accommodate the growing demand, they added.