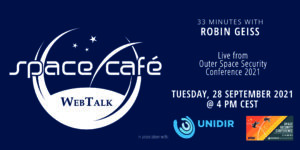 This Space Café WebTalk will feature Robin Geiss, director of the United Nations Institute for Disarmament Research (UNIDIR), in conversation with Torsten Kriening, publisher of SpaceWatch.Global.
Live from the Outer Space Security Conference 2021.
Robin Geiss brings to the position close to twenty years of experience in peace and security, with a focus on the impact of new technologies in these areas. Most recently, he served as Director of the Glasgow Centre for International Law and Security at the University of Glasgow and as the Swiss Chair of International Humanitarian Law with the Geneva Academy of International Humanitarian Law and Human Rights. He was a Visiting Professor at the Paris School of International Affairs at Sciences Po in Paris.
In this live talk, the audience will have the chance to learn about the 2021 edition of the Outer Space Security Conference. This conference is a flagship annual UNIDIR event that provides a unique forum for the Geneva-based diplomatic community—as well as visiting experts from military, industry, and academic backgrounds—to jointly consider challenges related to security in outer space and to exchange ideas regarding solutions. The objective of the annual Space Security Conference is to have a positive impact on international dialogue around space security with a view to the development and adoption of concrete measures to ensure the long-term sustainability of human space activities.
Robin Geiss will also discuss UNIDIR's Space Security portfolio of work is intended to facilitate the peaceful, prosperous, safe and secure use of space through the enhancement of space security governance.
The audience will have an opportunity to ask questions in dialogue with Robin Geiss.
This Space Café is prepared in association with UNIDIR.
SpaceWatch.Global is a Switzerland-based digital magazine and portal for those interested in space and the far-reaching impact of the space sector.
This Space Café WebTalk will be conducted in English on 28 September 2021 at 4 pm CEST.
Reserve your place today.