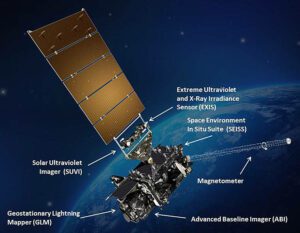 Paris, 13 September 2021. –NASA has selected SpaceX to launch the Geostationary Operational Environmental Satellite-U (GOES-U) mission, the U.S. space agency said.
The total cost for NASA to launch GOES-U is $152.5 million, which includes the launch service and other mission-related costs, NASA said. The mission is targeted to launch in April 2024 on a Falcon Heavy rocket from Launch Complex 39A at Kennedy Space Center in Florida.
GOES-U will provide advanced imagery and atmospheric measurements of Earth's weather, oceans, and environment, as well as real-time mapping of total lightning activity and improved monitoring of solar activity and space weather, NASA said.
GOES-U is the fourth and final spacecraft in the GOES-R Series of geostationary weather satellites operated by the National Oceanic and Atmospheric Administration (NOAA). The GOES-R Series is a joint effort between NASA and NOAA and includes GOES-R, GOES-S, GOES-T, and GOES-U.